Just in the nick of time and right before Valentine's Day. Here is my Top 13 (because 10 just ain't enough) Unconventional Love Stories. I command thee to seek them out and watch them! So Says Dick Hollywood. Films are in Alpha Order because, well just because… And I left off Harold and Maude on purpose, because most likely everybody has either seen it or heard about it already, but I do think that it is one of the all time best unconventional love stories.
Angel Baby (1995)
Love this Australian Flick Directed by Michael Rhymer, about two schizophrenics who meet in group therapy, fall in love and decide to have a baby.
Carrington (1995)
The story of the relationship between Painter Dora Carrington and Author Lytton Strachey and their strong connection for each other. A platonic relationship, due to Strachey's sexual orientation, but emotionally they loved each other deeply.
Crazy Love (2007)
Bizarre Documentary that explores the troubled relationship between Burt Pugach and Linda Riss. The title of this Flick is not kiddin' and it is Pretty Fuckin' Crazy!
Leaving Las Vegas (1995)
Ben is planning on drinking himself to death in Las Vegas and gets caught up romantically with Sera a prostitute, in John O'Brien and Mike Figgis' tragedy.
Lunatics: A Love Story (1991)
Hank is crazy and I mean Bat Shit Crazy. Nancy (80's Sweetheart, Deborah Foreman) is in trouble and I mean Big Trouble. When there two worlds collide sparks begin to fly. If only they could get through all of Hank's tin foil.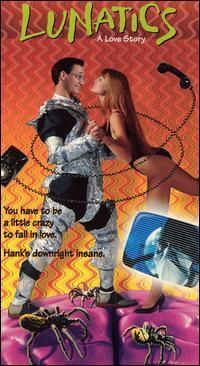 Niagara Niagara (1997)
From IMDB: "An outsider and a young woman plagued by Tourette's syndrome meet and together journey to Canada."
Remains of the Day (1993)
Unrequited love has never been captured better than in Remains of the Day. What an amazing restrained and subtle performance from Anthony Hopkins. My favorite Merchant/Ivory Production.
Secretary (2002)
I see nothing wrong with a little domination and submission in the work place. Nothing wrong at all…
Sid and Nancy (1986)
The scene with the garbage falling on them while they are kissing says it all. Love Love Love It!
Tie Me Up Tie Me Down (1990)
Kidnapping an Actress and tying her to the bed until she falls in love with you seems absurd. Quite absurd indeed…
Waking the Dead (2000)
From IMDB: "A congressional candidate questions his sanity after seeing the love of his life, presumed dead, suddenly emerge." This is an underrated little gem of a film with great turns by Billy Crudup and Jennifer Connelly. Seek it out!
Wings of Desire (1988)
An Angel gives up is wings and decides to become human when he falls for a Circus Performer and wants to experience life. One of Wim Wenders best!
Wristcutters: A Love Story (2006)
Boy kills himself when his girl breaks up with him and goes to some strange purgatory reserved for suicides. Girl offs herself 3 months later and has been spotted in the very same purgatory. Boy searches for his "True Love" in the afterlife…