Magnet Releasing has got a few fun looking Flicks screening at Sundance this January. "I Saw the Devil", "Hobo With a Shotgun", and "The Troll Hunter". So, while you are waiting to see these Flicks on the Big or Little Screen, why don't cha check out their trailers.
So Says Dick Hollywood!
First up: I Saw the Devil
Starring: Lee Byung-hun and Choi Min-sik
Directed by: Kim Jee-woon
Lee Byung-hyun (The Good, the Bad and the Weird) stars as Dae-hoon, a special agent whose pregnant wife becomes the latest victim of a disturbed and brutal serial killer, captivatingly played by Oldboy's Choi Min-sik. Vowing revenge, Dae-hoon blurs the lines between hunter and hunted and good and evil, eventually becoming a monster himself in his twisted pursuit of revenge. From Korean genre master KIM Jeewoon (The Good, The Bad and The Weird and A Tale of Two Sisters) I SAW THE DEVIL is shockingly violent and stunningly accomplished, transcending the police procedural and pushing the boundaries of extreme Asian cinema in surprising and thrilling new ways.
Second Up: Hobo with a Shotgun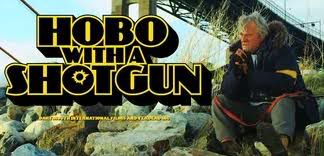 Starring: Rutger Hauer, Molly Dunsworth, Gregory Smith, and Brian Downey
Directed by: Jason Eisener
Taking cues from such cult favorites as The Class of 1984, The Warriors and
Dead End Drive-In, HOBO WITH A SHOTGUN stars Rutger Hauer as a hobo who rides the rails into a bleak and lawless town that is hopelessly overrun with crime. After witnessing a series of atrocities committed at the hands of local crime boss the Drake and his two vicious sons, the hobo cobbles together his life's savings and buys a shotgun, embarking on a mission to clean up the town—with extreme prejudice.
And Last But Not Least: The Troll Hunter
Starring: Otto Jespersen, Hans Morten Hansen, Tomas Alf Larsen
Directed by: André Ovredal
THE TROLL HUNTER is the story of a group of Norwegian film students that set out to capture real-life trolls on camera after learning their existence has been covered up for years by a government conspiracy. A thrilling and wildly entertaining film, THE TROLL HUNTER delivers truly fantastic images of giant trolls wreaking havoc on the countryside, with darkly funny adherence to the original Norwegian folklore.