These are 13 Xmas Flicks that you should watch to get in the Yule Tide mood! Many of them are most likely already your Favorite Holiday perennials, but there should be a few surprises here that should really give a try. They are listed in Alphabetical order, so hurry up set to watching Dick's 13 Days of Xmas Flicks!
1. Arthur Christmas: It's fun, fresh, inventive and brand new! A great addition to anyone's Xmas Flick viewing list. Should still be most theaters at the time this list is posted. So get out and see it, why don't cha!
2. Babes in Toyland (March of the Wooden Soldiers): This Laurel and Hardy flick is one that my Dad shared with my sisters and I when we were young. It became a Dick Hollywood and Family favorite for many years. DO NOT WATCH THE COLORIZED VERSON!
3. Bad Santa: Come on it's Fuckin' Bad Santa for God's Sake and Billy Bob Thorton's best comedic roll. Grand ol' raunchy and raucous good times to be had at Xmas time.
4. Black Christmas: Bob Clark has two Xmas Flicks on my list, but I bet that this Flick is not the one that most people think of when it comes to his Holiday Flicks. This 1972 Flick, which started the Slasher Genre, takes place over Christmas break in a Sorority House in which the students start to receive obscene phone calls and then one by one are killed off. Come and get your Christmas Slice and Dice On! Not to be confused by the stupid and unnecessary 2006 Remake

5. Scrooge (1951): Alister Sim plays the best Scrooge ever in this version of A Christmas Carol. The Ghost of Christmas Yet To Come creeped the shit out of me as a kid. Good times!
6. A Christmas Story: The Bob Clark Xmas Flick that everybody knows and loves. Hey what's not to love? A kid gets his tongue frozen to a lamp post in one scene and comedy ensues and I ask you, what is better than that? Great Xmas Flick that only gets better with repeated viewings.
7. Elf: I love Will Ferrel as Buddy in Elf! I love that Zooey Deschenal starting making records after people heard her sing Baby It's Cold Outside in the shower. I love it when the little guy, (Peter Dinklage), runs across the table and attacks Buddy. I love this Flick!
8. A Midnight Clear: In France in 1944, an American Intelligence squad locates a German platoon in the Ardennes, wishing to surrender rather than die in Germany's final war offensive. The two groups of men, isolated from the war at present, put aside their differences and spend Christmas together before the surrender plan turns bad and both sides are forced to fight each other.
Beautiful and Criminaly Unseen Anti-War Flick from Director Keith Gordon. It is heart wrenching, moving and is pretty fuckin' sad, as it should be. So go on and get your cry out, and then get your mince pie on! This is one Flick that everybody should really make a concerted effort to seek out and watch.
9. Miracle on 34th Street 1947: Edmund Gwenn is Santa Claus and I have no doubt about it every time I watch this wonderful Xmas Flick. Natalie Wood has never been more adorable as Susan, the little girl who will not let the people around her tell her that the man she knows as Kris Kringle is crazy and not actually the real Santa Claus. Great Family Fun!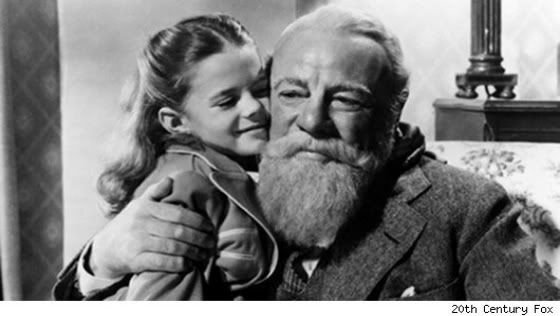 10. National Lampoon's Christmas Vacation: Clark and the rest of the Griswald Family get together once again in the 3rd Vacation Flick. This time it is to celebrate and destroy Christmas at the same time. Some really super silly and funny shit! Check out my Fav Scene of Clark Sledding Super Fast Down Hill On a Saucer Sled with Super Wax!
11. Nightmare Before Christmas: Tim Burton Produced and came up with the story for this animated flick Directed by Henry Selick. It has become a Seasonal tradition for many and is quite imaginative, different and fun. and now enjoy a nice moment when Jack discovers the Christmas Holiday Spirit in Christmas Town
12. Rare Exports: A Christmas Tale: Full of originality, this Finnish Flick is about a boy who believes that some construction workers have found Santa Clause buried deep in a mountain and so begins researching the early Finnish fables of Joulupukki(Father Christmas) and the Germanic Krampus. Both of these characters do not give gifts, but instead steal them and punish bad children in horrific ways. The flick has an abundance dark humor and some mildly horrofic scenes, but for the most part play out like a darker "A Christmas Story" and is very sweet and poignant
13. White Christmas: Bing Crosby, Danny Kaye, Rosemary Clooney and Vera Ellen make for Merriment and Mirth in Irving Berlin's Musical, "White Christmas". It's off to Vermont's Winter Wonderland for Crosby and Kaye when then fall for two sisters and help them save a failing Inn. And now for some Snow!