Holy percussion Batman! These renegade rhythmic anarchists performing their "musical apocalypse" on an unexpecting Swedish city makes for quite a fun and uniquely odd little flick indeed. They make music and create full blown symphonic sounscapes by utlizing various and normally non-melodious objects, machines, and combine them everyday sounds and noise, in which they then sync in time with the help of a metronome. Magnus and Sanna roll there eyes and look down on boring traditional symphonies and orchestrations. While performing a live piece of music from inside their speeding van, they get into an accident and now must evade the law.
The police call in the bomb squad when they hear a ticking sound coming from the wreckage. Coming from a family of famous and child prodigy musicians, Officer Amadeus Warnebring recognizes the all to familar sound of a metronome and difuses the situation by pulling it out of the van. The tone deaf Amadeaus actually hates music, but is singled out by his superiors and assighned to the task of apprehending the fugitives. He is reluctantly determined to bring the two musical terrorists in to custoday. He postuates that the duo are musical extremists determined to sonically wreak havok upon the unsuspecting city. After having a close call with police , Magnus decides to pull out his Opus entitled "Music for One City and Six Drummers", and they begin to recruit four more drummers to pull off and perform his pièce de résistance. As the motley crew of professional drummers are recruited, rehearsed and begin to play Magnus' symphony, it becomes quite clear to Amadeus and the Police that his suspicion was correct.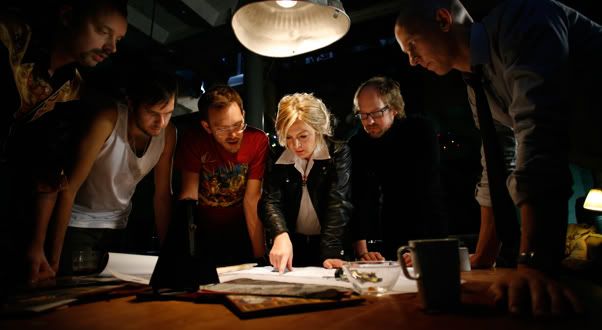 Magnus's musical attact is broken up into four movements involving the use of hospital rooms, banks, construction machinery and eletrical poles. With each act of musical terrorism, the gang of drummers become more and more infamous in the city and on the nightly news, as Amadeus becomes more and more obsessed with stopping them along with the incessant noise in his head. It's a gleefully absurdist flick with genuine warmth and frivolity. In a time in which Hollywood only has to offer filmgoers Sequels, Prequels, Remakes and Reboots, "Sound of Noise" shows us that originality is always better than any rehashed or recycled ideas and stories. It is one hell of a fresh, unique and funny movie that I highly reccomend to anyone who loves good Cinema.
So Says Dick Hollywood!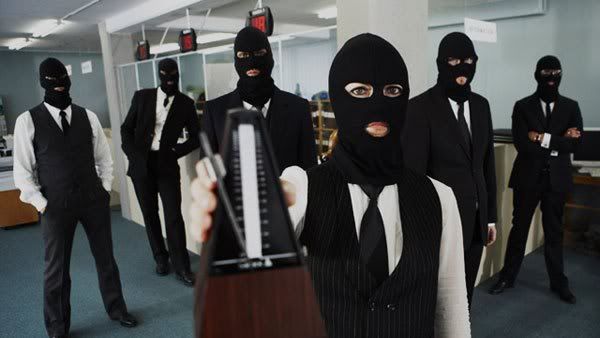 Also if you live in the Los Angeles are, please check out "Sound of Noise" at the Cinefamily Theater: STARTING FRIDAY THE 9TH : ONE-WEEK RUN OPENING NIGHT PARTY FEAT. LIVE DRUM BATTLE BY MELVINS DRUMMERS!)FRIDAY MARCH 9TH – THURSDAY, MARCH 15TH
SCREENING SCHEDULE (Tickets – $12/Free for members. Opening Night Party screening – $14/Free for Members. Showtimes subject to change.)
——————–
Friday, March 9th: 10:00pm (Opening Night Party feat. Q&A with filmmakers, and live drum battle by Melvins drummers!)
Saturday, March 10th: 9:50pm
Sunday, March 11th: 3:45pm, 10:15pm
Monday, March 12th: 7:45pm, 10:15pm
Tuesday, March 13th: 7:45pm, 10:15pm
Wednesday, March 14th: 4:45pm, 10:00pm
Thursday, March 15th: 7:45pm, 10:15pm
Check Out The Trailer!