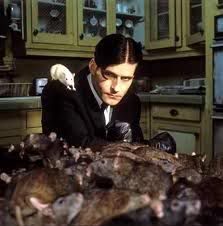 I first really started to appreciate Crispin Hellion Glover after watching the infamous David Letterman incident years ago. Crispin who was dressed in a similar outfit he wore in the film "Ruben and Ed" and on the inside of his CD, "The Big Problem", proceeded to get all Andy Kaufmanesque on Letterman. "I'm strong!" Crispin states while standing up from his chair. "I can kick", he exclaims, as his foot strikes out towards Letterman's head landing only inches away. Cut to a commercial break and when the show resumes Crispin is no longer sitting next to Dave and has been "escorted" to the exit of the building. Some of the audience members grumble when they are told that he won't be coming back, and Letterman remarks, "Oh, and I suppose that you would like to have lunch with him?" I thought to myself, yes I would, if I could, I surely would. I believe that Filmjerk can attest to the fact that I, Dick Hollywood, have been a fan of Crispin and his films ever since.
So, finally now with Willard, Crispin lands a starring role in a major motion picture, a role that he was destined to play. Willard, a remake of an early 70's cult classic, is the story of a thirty-something loner who cares for and lives with his invalid mother. A sad sack that is friendless and gets no respect from his overbearing boss, whom happens to be his dead father's partner in business. In fact his boss is down right mean and nasty towards him and only keeps him around because he made a promise to Willard's mother to keep him employed as long as she is alive. A fact that he drills home daily to Willard. One night his mother asks him to check the basement for rats and if found, to dispose of them immediately. He spots a few of the little buggers, so he heads to the local hardware store for some traps. Catching a small white one still alive on some rat flypaper, he takes pity on the poor little guy, peals off the stick-um and nurses him back to health. Willard and the little white furball bond quickly and become best friends, his only friend. Willard soon realizes that this rat is much smarter than your average rodent and appropriately names him Socrates. Noticing that Socrates commands respect from the rest of the band of merry rats, he instructs them to tear up his newspaper. Tear it. Tear it. Tear it Tear it up! The family that tears together stays together. But then again there is Ben, Big Ben, to you Willard. Big bad Ben! Ben is the biggest fucking rat that I have ever seen, and he gets jealous when so much attention is lavished on Socrates and not him. He just wants Willard to love him as much as he does Socrates. There is nothing worse that a jealous rat scorned. Some people are bad, really bad. Some people are rats, really big rats. Some rats are really big, really mean, and really pissed off!
The film is not as frightening as it is dark, demented and twisted. We feel empathy for Willard one moment and disgust the next. Crispin turns in an over the top performance that rivals his role as Layne in "River's Edge". He sweats, cries, screams and twitches throughout the film. This darkly comical film relies on Crispin's talent to make us feel more and more uncomfortable as we watch Willard unravel. In fact Willard is even creepier than the rodents from hell. Watching this film with a crowd of 15 or so other matinee viewers, I found myself gleefully smiling at the oddness that is Willard, and while Glover fans will most likely embrace this film, the rest of the world will just have to finally wake up and take notice of the talented Mr. Glover. I tip my Raiders cap to New Line Cinema for putting their faith in Crispin Glover's talent, and unleashing him on the unsuspecting general public. Known to most moviegoers as George McFly, the father, from "Back to the Future", but recognized by his many fans as an eccentric actor willing to take chances and create some of the most memorable kooks in cinema history. And yes, Mr. David Letterman, I would be honored to have lunch with Mr. Crispin Hellion Glover.
Dick Hollywood Says See This Flick Now or Forever Hold Your Peace!
Originally Posted on March 17th, 2003 at FilmJerk.com